Blog Entry
Black Eyed Peas - Part THREE:- Of year 2003, it was when " WHERE IS THE LOVE? " a song that makes the History , it flooded the World with love.
Written by j3lu on January 21, 2011
Fergie,  integrated fast with  the Pea Boys. She actively contributed to the band with her love, songs and the music, the band expanded to conqueror more dimension, cruised the globe, showing some climbing trends in their actions..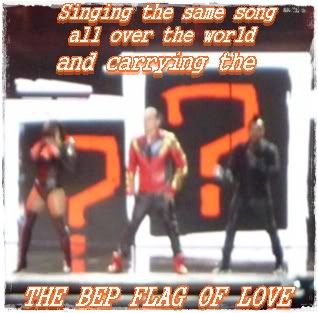 During -2003 -BEP took a larger scale of International level,  with Where is the love?, the song flooded the  heart of the overhaul humanity bringing, hope and more freedom  of LOve, LOve, LOve
Some one before me wrote, "They've transcended their vigilant hip-hop roots and have become a global phenomenon, the likes of which the music world has rarely seen."
Ever-curious and ever-confident, that group is
........--------------------------------------.......The Black Eyed Peas
To Day, there is no doubt, if crowning BEP,  "  The Empire Of The  Love "
. The group has sold an estimated 27 million albums worldwide, 20 million singles, and 47 million copies with both sales combined.
The group scored its first worldwide hit with "Where Is the Love?" in 2003, which topped over ten charts worldwide.
Another single was the European hit "Shut Up". Monkey Business was also a worldwide hit, certified 4x Platinum in the U.S, and spawning two hit singles,
"My Humps" and "Don't Phunk with My Heart".
2003's Elephunk was a breakthrough album for The Black Eyed Peas, vaulting them to a level of success unparalleled by any other hip-hop group.
The accolades are quick to recite: 7.5 million albums sold worldwide, 4 Grammy nominations, 1 Grammy award, and an unforgettable performance on the 2005 broadcast.
But fitted with loose rhymes, buoyant anthemic funk and an ebullient live spirit, the album also heralded a new sound for the modern age -- one that is inspired by hip-hop, eschews boundaries and inhibitions, and cuts across ages, races and backgrounds. It is a sound that can be described only as One Nation Under A Black Eyed Peas Groove.
Although nominally a rap group, Black Eyed Peas call upon so many forms of songwriting and production that slotting them into hip-hop is like slotting Prince into R&B -- technically true, but very limiting. Elephunk, the group's third LP (and the first to feature Fergie), doesn't have top-notch rapping, but as driven by frontman Will.I.Am, it does possess some of the most boundary-pushing productions in contemporary, (mostly) uncommercial hip-hop, right up at the level occupied by Common and OutKast.The smart, brassy opening club thump "Hands Up" hits another level with a sly bridge flaunting some heavy metallic slide guitar, while the highly pressurized love jam "Shut Up" features great interplay between Taboo and new memberergie.
-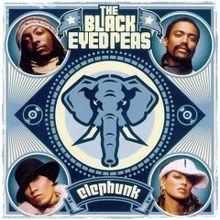 Elephunk was the group being crowned prince of the castle, the Monkey Business, their fourth album, is The Black Eyed Peas conquering the throne to become King.
It is an album that further intensifies their passion for making music together, for connecting with their audience through the most fundamental ways: making people have a good time.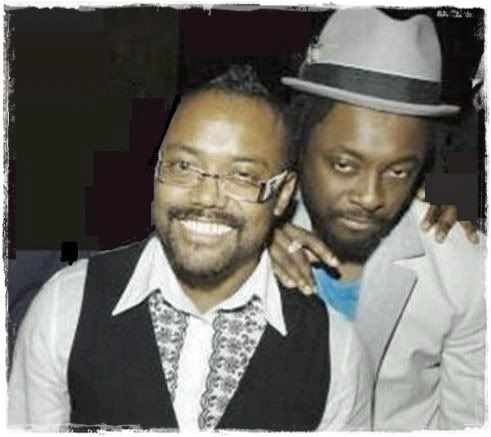 It is a credo that has inspired the group since they formed in the late 1990s, earning their keep in the nurturing environment of Los Angeles' vibrant hip-hop underground.
Even then, the group possessed a magnetic spirit that helped them establish a worldwide following through their first two albums, 1998's Behind The Front and 2000's Bridging The Gap.
In many ways, Monkey Business is a direct descendant of its predecessor.
The success of Elephunk kept the group touring around the globe for nearly 18 months.
"In going on the road for so long, we got an idea of what kind of music we wanted to play and make,".
"Monkey Business is very much about the types of songs we play live. It's about a party. It's layered differently and has energy to it that reflects how we tour -- from the beats to the types of instruments we used to how we interact with the audience. It's very much about us and the crowd on this record."
---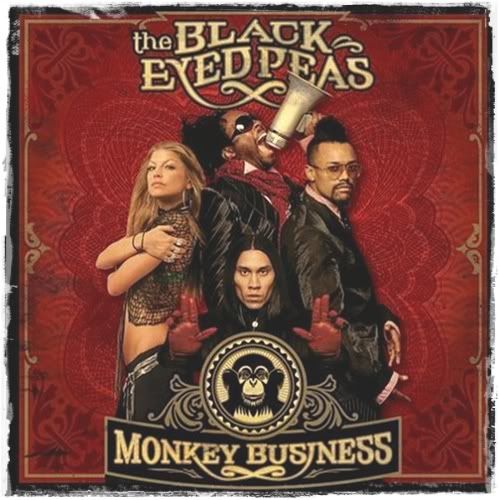 Monkey Business was literally produced and recorded during The Black Eyed Peas everlasting road trip.
will.i.am recalls
"I was in Brazil doing some CD shopping, "I came across this compilation and I thought it was one thing but it turned out to be something else. The Dick Dale song 'Miserlou,' was on it. At first I was angry -- this isn't what I wanted to buy,"
will.i.am laughs.
"But then, really, that song is hot. I said, 'we should do a song like this.' I jump-started the computer and made some beats on the train. Then we had to fly to Tokyo and I tightened up the beat on the plane. Then I recorded vocals in this park in Tokyo. And that's how we recorded the song, 'Pump It.'
The song, a jump-up party anthem, is one of the featured tracks on Monkey Business -- and made its debut in a commercial for Best Buy electronics.
"It's the beauty of technology now -- you can record anywhere, anytime, any which way. And I love that song because it feels like our live shows, it has that energy."
================================================================================
N.B - Resourced from ->  http://www.take40.com/artists/504/black-eyed-peas/bio
================================================================================
2003- fromthe beginning, theBlack Eyed Peas have added much to our culture; they have a unique sound and their energy on stage they perform while enjoying themselves, singing.
Black Eyed Peas in -2003 at Billboard Music Awards In Las Vegas USA
Everything changed in 2003, when the Black Eyed Peas Band, consisting of  apl.de.ap and Taboo and will.i.am, hired singer Stacy "Fergie" Ferguson and made a conscious decision to pursue commercial success.
Black Eyed Peas at the 2003 MTV Video Music Awards August 28, 2003
Comments (1)
Add Comment
Add comment
You need to be logged in to do this
You will need a Dipdive account and you will need to be
logged in to use this function. An account is free, let's create one right now!
Dez-Seeks Help 4 BURMA is a guy that lives in Australia. He joined Dipdive on February 13, 2009. The last time he logged in was on November 8, 2012.